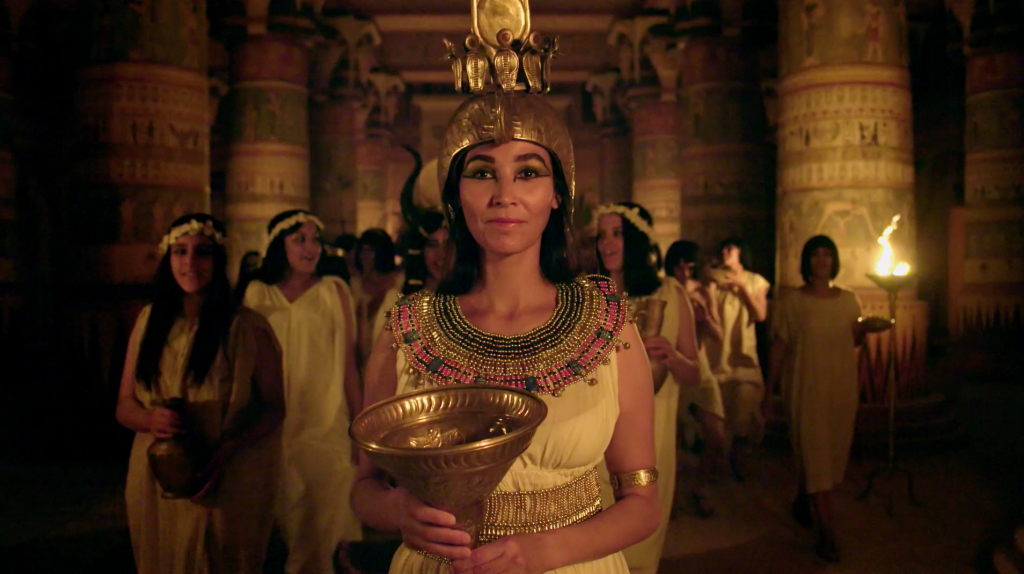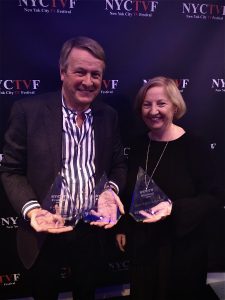 Tile Films have won three awards at the New York City TV Festival for their Smithsonian Channel docudrama Sacred Sites: Egyptian Priestesses.
The festival took place on Friday 22nd and Saturday 23rd November at the Dolby Theatre on 6th Avenue in New York.
With a full house and an enthusiastic audience, Egyptian Priestesses was the final film to be screened at the festival. Afterwards, at the awards ceremony, director/producer Stephen Rooke was presented with the three awards for the film:
Best TV Series Feature.
Best Director TV Series: Stephen Rooke.
Best Cinematography: Colm Hogan & Piaras Mac Cionnaith.
This brings the number of international television awards the film has received to thirteen.
Stephen Rooke and Marie Rooke with awards at the New York City TV Festival.
After the festival, producer/director Stephen Rooke told IFTN:
"We were delighted to attend the New York City TV Festival and were thrilled with the reaction to the film from the audience in New York. It was an incredible honour to receive three awards and I would like to thank the cast and crew from Ireland and Morocco. Special thanks to our Irish Directors of Photography, Colm Hogan and Piaras Mac Cionnaith for the best cinematography award. It's fantastic to see Irish documentary companies like ours getting recognition on the international stage. Access to international funds is vital for the production of such quality productions and the support of Section 481, Ireland's Film Corporation Tax Credit, is key to the access and success".
Sacred Sites: Egyptian Priestesses tells the incredible story of a surprising undercover power structure in ancient Egypt, led by women: an elite succession of priestesses called the God's Wives of Amun, who wielded extraordinary influence. Until recently they were all but forgotten, but this docudrama film investigates Egypt's sacred sites to rediscover their story and the mysterious source of their power.
Filmed on location in Ireland, Egypt, Morocco and the USA, Sacred Sites: Egyptian Priestesses was directed by Tile Films' Managing Director Stephen Rooke (Sacred Sites Season 1, Aerial Britain, Saving the Titanic, Waterways) and written by Tile Films' Head of Development, David Ryan (Sacred Sites: Season 1, After Braveheart, Cromwell in Ireland). Producers were Stephen Rooke and Laura Danaher (Sacred Sites: Season 1, Death or Liberty).
The film was narrated by Eric Meyers. Directors of Photography were Colm Hogan and Piaras Mac Cionnaith. The Sound Recordists was Michael Cassidy, while audio mixing was conducted by Killian Fitzgerald of Avatar Audio Post Production. The film was edited by Jim Dalton. Post production was provided by Outer Limits with Eugene McCrystal as colorist, Rory Gavin as online editor, Andy Clarke and Kevin O'Brien in charge of VFX. Music was composed by Giles Packham. The production designer was Lynne Williams of Irish Arms and Maeve Kenny and Maggie Fagan were production managers.
The drama re-enactments were filmed in Ireland and Morocco with a main cast of eleven and some hundred extras working on the production.
Sacred Sites was produced by Tile Films from its production office in Dun Laoghaire for the Smithsonian Channel in Washington DC with the support of Section 481, Ireland's Film Corporation Tax Credit. Stephen Rooke is executive producer for Tile Films, while David Royle and Tim Evans are executive producers for Smithsonian Channel. The Smithsonian Channel is available in Ireland and the UK on Virgin (Channel 295), Sky (Channel 195), Freesat (Channel 175) and Freeview (Channel 99).